Medford/Somerville
Active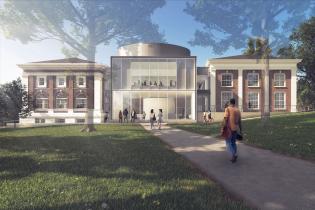 Campus: Medford/Somerville
Status: Active
School: School of Arts and Sciences
Estimated Completion: Spring 2025
Design Architect: Finegold Alexander Architects and Payette
Construction: Windover Construction
Description of Eaton Hall
Situated on The Green just steps from Tisch Library, the renovated Eaton Hall is home to several academic departments and centers. It houses interdisciplinary classrooms, collaboration space, and research labs and provides a centrally located gathering space.
Project Design Priorities
Innovation and Collaboration
Modernized space for teaching, learning, research, and gathering will ensure that there are both formal and informal opportunities to collaborate while encouraging creativity and innovation.
Community, Connections, and Well-Being
The Eaton Hall renovation provides for departmental growth, maximizes shared breakout spaces, and creates a significant new campus gathering space on the upper campus academic quad. The redesign will allow for faculty growth, while maintaining the current classroom and seminar space allocations.
Sustainability
All mechanical, electrical, data, plumbing, and fire protection systems will be replaced. Additionally, the new design improves circulation patterns, introduces natural light and updated finishes. The design is focused on providing a more energy efficient building, setting an aggressive target of reducing energy consumption.
Accessibility
The Eaton Hall renovation includes a centrally located, wheelchair accessible entry addition that opens into a multipurpose gathering space with an elevator and direct access to the Academic Green. Accessibility updates will also be made to classrooms, offices, breakout areas, and gathering spaces.