Medford/Somerville
Active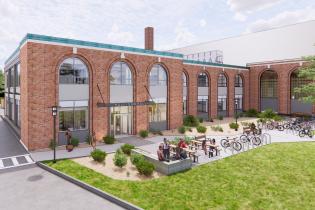 Campus: Medford/Somerville
Status: Active
School: School of Engineering
Estimated Completion: Spring 2024
Design Architect: Miller Dyer Spears Architects
Construction: Dellbrook/JKS
Description of Halligan Hall
Halligan Hall houses the Department of Electrical Computer Engineering (ECE), labs, classrooms, offices, and collaboration space.
Project Design Priorities
Innovation and Collaboration
Completion of this renovation and renewal project will enable the Department of ECE, currently spread across three campus locations, to move into a single building, increasing the opportunities for faculty, students, and staff to work and learn together. A reimagining of space utilization will also create additional teaching and research labs, more faculty office space, and ensure that there is room for the department to continue its growth.
Sustainability
A renovation of all mechanical systems, including HVAC, electrical, plumbing, fire protection, and Tel-data have been designed to operate with lower Energy Use Intensity (EUI), and rely on less fossil fuels. The building envelope will be improved through use of new insulated double pane windows and increased amount of insulation.