Medford/Somerville
Active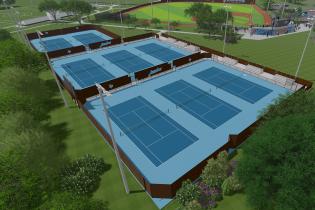 Campus: Medford/Somerville
Status: Active
Estimated Completion: Fall 2023
Design Architect: CHA Associates, Inc.
Construction: Windover Construction
Description of Tufts Tennis Courts
Located next to the athletic fields near Cousens parking lot, the tennis courts will feature eight new post-tensioned concrete slab courts, reducing the risks of cracking, contraction, and soil expansion and strengthening the foundation's structural integrity. The courts will feature "California" fencing, spectator seating, new LED lighting, a new scoreboard, data infrastructure, and surrounding landscaping improvements.
Project Design Priorities
Community, Connections, and Well-Being
In addition to providing Tufts student-athletes with improved athletics and recreation facilities, the new tennis courts will support the health and wellness of our entire campus community.
Sustainability
Energy efficient LED lights will replace the original metal halide lighting, reducing lighting spillover into neighboring residences. A new water recharge system via underground storage will enhance the quality and reduce the quantity of storm water runoff and the need for irrigation of the surrounding landscape.
Accessibility
The new tennis court facility will be fully ADA compliant. A new pathway from Cousens parking lot will allow direct access to the courts and a spectator seating area within the facility.